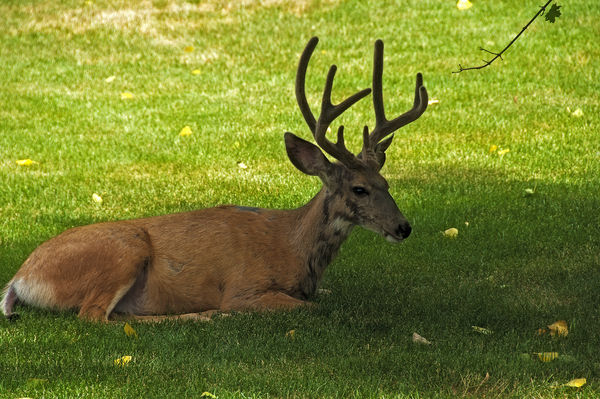 Yesterday, as I road my bike home, I peddled past a deer that had been hit by a car and was immobile, and yet still alive on the side of the road.  I at first saw it's doey eyes staring up at me, and thought nothing of it as I peddled, but then soon realized that it was injured, I stopped my bike, got off, and walked until I was about 6 feet away.  Immediately I started to cry.  I felt helpless and realized that I could not do a thing for this deer.  And when I looked at it, I felt it's surrender to the situation.  It was where it was.  It was not bellowing or squeemish.  It must have been there a while, and probably so exhausted it didn't have fear anymore.
I couldn't stop myself from crying.  How helpless and sad this was.  What suffering it was going through, and yet, it was going through it.  Who was I to paint right or wrong on that deer's life path.  Do I find a way to slit it's throat so it doesn't suffer?  No, I can't do that I'd feel worse.  Is it bad to feel worse?  No, it is good to feel all things, and come to terms with it.  All I could do was walk away.
Deer is akin to me.  I feel a gentle calm when I think of deer.  Deer is akin to the earth.  I feel the same when I think of the earth.  The other day I had the same feelings when I heard for the first time about some of the tragic realities that the earth is surrendering to.  Our professor's required readings made me want to cry… and all I could think of doing was walking away.  Some things I have to surrender to, as this is a natural transition of humanitary and planitary realities.  But maybe I could take on a Plenitude attitude.
[youtube=http://www.youtube.com/watch?v=HR-YrD_KB0M&w=560&h=315]
– Reduce work time, and allow more work for people

– Accept living in a smaller, cheaper and less consumerism lifestyle

– Do things myself, grow my own vegetables

– Low cost eco-friendly houses

– Maybe this is savvy economics, and would allow me to live better with less money
Sharing and bartering, re-use and re-sale.  A classmate of mine loves this theory, keeping it more simple, and I'm moved by her suggestion.  Social capital as a more abundant way to "reclaim a human scale to our economy, take responsibility for our life styles and treat one another and our planet with the respect we all deserve."
Rather than just surrendering, I am going to do something about it.  I also plan on biking to work now.  I look forward to this more sustainable lifestyle, and look forward to sharing my thoughts on this on my blog.
Stay tuned for more, and please feel free to comment, like and share my blog with anyone you wish!